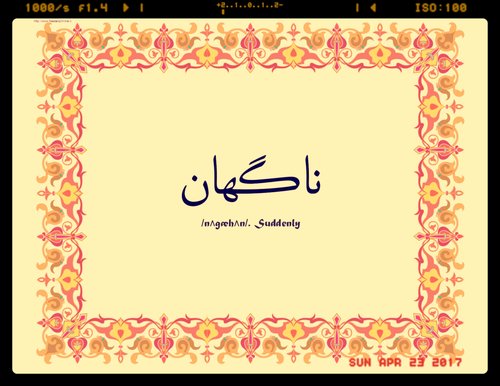 Presentation of work-in-development at PuSh International Performing Arts Festival
Russian Hall - 600 Campbell Avenue, Vancouver
Jan 25 and 26, 2019 at 8PM
Jan 26, 2019 at 2PM
For more information about PuSh Visit https://pushfestival.ca
This project is a performance inspired by Suddenly, This God Lover Died in the Love of God, This God Slain Died by the Sword of God, a prominent Iranian play written by Abbas Nalbandian in 1971. It has only been performed once due to its challenging form and spirit. The play is about a group of people living in a poor part of Tehran in a communal house. A new tenant who seems to have a chest full of money arrives and becomes the object of the neighbours' curiosity, envy, and hatred.
Created by Arash and Aryo Khakpour (The Biting School) in collaboration with:
Performers: Ashley Aron, Elissa Hanson, Billy Marchenski, Victor Mariano, Zahra Shahab
Costume Designer: Elika Mojtabaei
Musician and Sound Designer: Roxanne Nesbitt
Lighting Designer: Jonathan Kim
Stage Manager: Zoe Bellis
Dramaturg: David McIntosh
Outside Eye: Raina Von Waldenburg
Photo: Angel Lynne
Video documentation: Chris Randle
Text Translation: Aryo Khakpour
Translation Dramaturg: DD Kugler
Supported by
Canada Council for the Arts
The Dance Centre Dance Lab
Special thanks to Mariana Mohammadiazad, Ahmad Khakpour, Parjad Sharifi, Tim Carlson, Hamidreza Jadid, Vandad Sotoudehnia, Majid Tehrani, Elysse Cheadle, Heather Lamoureux, Milton Lim (and HKX), Sara Molavi, Soroush Mojtabai, rEvolver Festival, Theatre Conspiracy, and Playwright Theatre Centre.
We acknowledge the support of the Canada Council for the Arts, which last year invested $153 million to bring the arts to Canadians throughout the country.
Past Presentations:
2018 A work-in-progress showing of this piece took place at Faris Family Theatre, Scotiabank Dance Centre on Friday, May 4th at 7pm.
This was a research process made possible via the support by Canada Council for the Arts and The Dance Centre's DanceLab.
Created by Arash and Aryo Khakpour in collaboration with Performers Ashley Aron, Elissa Hanson, Billy Marchenski, Victor Mariano, Zahra Shahab Lighting/Projection Designer Parjad Sharifi Costume Designer Elika Mojtabaei Musician and Sound Designer Roxanne Nesbitt Dramaturg David McIntosh Photo Angel Lynne Video documentation Chris Randle Translated by Aryo Khakpour Translation Dramaturg DD Kugler
2017 A public playreading of this play was presented at rEvolver Festival in Vancouver